Note: We are running out of most below colors.. This is a rare limited edition fabric and will Not be offered in the near future.
As of As of 9/4/18, We only have 1 color in the shorter size: Black
We now only have ONE color in the Longer size:, Green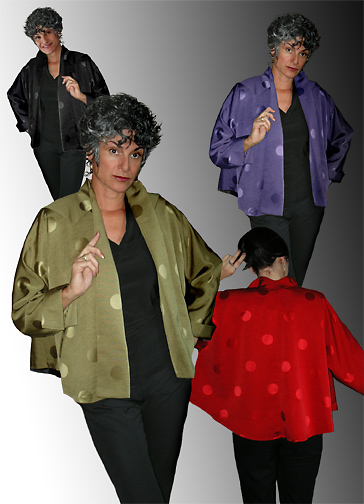 This is our newest design. We've been refining it for 6 months. It is an open style with two different ways to set the collar in front. Also note the Bow style dip in the back of the collar. It is a shimmery nubby weave fabric with a Circle pattern woven into the fabric. It is made using a wonderful, washable micro-fiber fabric. The colors are permanent and this fabric is very difficult to stain. You can spot wash small areas with no ill effects but we recommend dry cleaning of this finely tailored item. It has an elegant retro look that can be dressy or casual.
WE HAVE 2 LENGTHS
(LARGER Length is 3 inches Longer)
WHICH WILL FIT SIZES 6 - 12/16
When ordering, this item is called:
RETRO SWING COAT
Price: $279+ tax + shipping
THIS IS A JAQUARD WOVEN MICRO-FIBER so it needs a gentle touch when cleaning:
THIS IS A SPOT WASHABLE ITEM(i.e. you can wet an area with soapy water, work gently, rinse and blot/feather dry with a hair dryer).
It is very tailored so machine washing is NOT recommended.
You can HAND WASH Rinse/blot with a flat laying towel and straighten / Hang on a thick hanger. You can use steamers or steam iron(on appropriate heat setting for Poly-Nylons) the collar for open collar look.
Reputable DRYCLEANERS are also OK Printer Friendly Version