APPROXIMATELY 25 YEARS AGO, CHEMISTS DECIDED TO TRY AND MAKE NEW QUALITIES FROM EXISTING POLYESTERS THEN BEING PRODUCED.
POLYESTER FABRICS AT THAT TIME WERE HOT, STICKY AND DID NOT ALLOW MOISTURE OR AIR TO ESCAPE. IT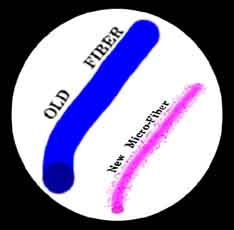 WAS AIR-TIGHT. WHEN VIEWED UNDER A MICROSCOPE, THE FIBER APPEARED ROUND AND SMOOTH, LIKE FISHLINE(IT DIDN'T HOLD SEAMS WELL).
POLYESTER DID, HOWEVER, HAVE GOOD PROPERTIES: THE COLORS WERE PERMANENT AND IT DID NOT WRINKLE EASILY
THE CHEMISTS SOON DISCOVERED THAT BY STRETCHING THE FIBER OUT VERY THIN AND ETCHING IT IN CERTAIN CHEMICALS IT THEN MADE IT LOOK MORE LIKE A NATURAL FIBER WITH ITS ROUGH HOOKED EDGES. (SEE DRAWING)
THESE HOOKED EDGES ALLOWED FABRIC MAKERS TO SPIN IT INTO A STRING AND THEN WEAVE IT. THIS NEW FABRIC WAS NOW BREATHABLE; YET, THOSE OLD PROPERTIES OF NON-FADING,WRINKLE AND STAIN RESISTANCY WERE STILL INTACT. IT CAN NOW BE TEXTURIZED TO MAKE AMAZINGLY SOFT SUEDED OR PEACH SKIN FABRICS.
ONCE YOU OWN A GARMENT IN THIS WASHABLE FABRIC, YOU WILL FEEL AN AMAZING DIFFERENCE! ---AND IT IS SO EASY TO LAUNDER.