a;ldkjs;lfkjslkfDrag Window out to fullest width to read text on side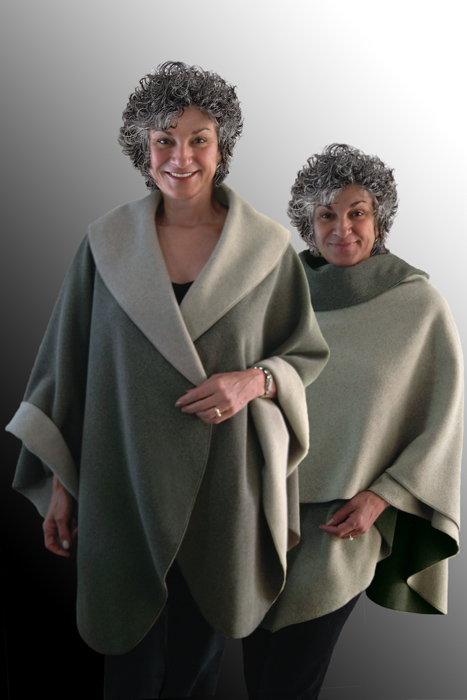 Made from one of the newest Polar Tek non-pilling weaves. This is a special 200 weight weave that is Hi-Density both sides. We had it custom woven just for us. You can't find this color anywhere else. You can Reverse it and have the lighter side out(Back Pic) If your monitor is not showing the subleties of color, it is a SAGE green shade with a matching lighter, off-white greenish beige, which is an absolutely gorgeous combination and has been well received at our Art and Wine Shows.
This is an original style totally designed by LINDA RIPATTI. It can be worn open or one side thrown up and over the shoulder(Back Picture). ALSO Placing it on the INSIDE shoulder gives an amazing look and keeps it from peeling off in the wind.
Cape also can be made with a wide COLLAR, if so desired. We can make any size. The one shown is the medium size.
I can custom make this style, if you are short and need a custom fit. Allow up to 3 weeks for delivery.
When ordering, this item is called:
TWEED REVERSIBLE CAPE
Price: $169+ tax + shipping
Measurement Diagram for Custom Size Order