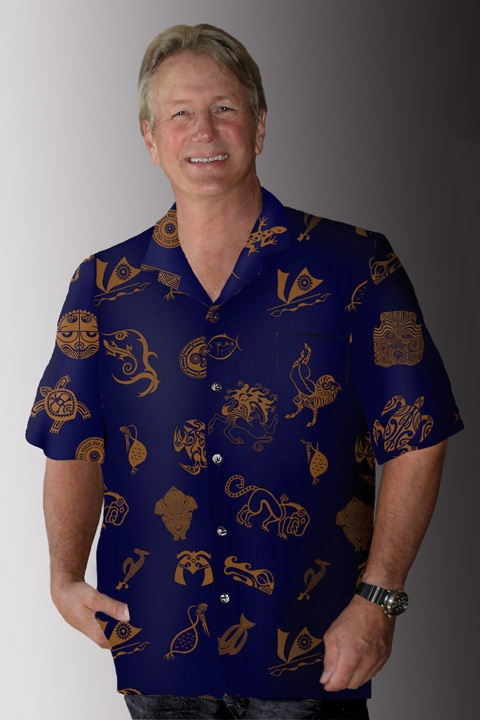 As of 3/9/20: We only have.M(2 left), XL,.. 2-3XL(3 older lighter print Left)
We have NO plans to remake this print; when it's gone it's gone.
This is our 2005 Fabric design. It is based on 150 year old drawings of Pacific Island chief's facial tatoos. With this last print run I also added artwork from ALL OVER the pacific, so it's artwork from the whole Pacific Basin. I faithfully tried to recreate this style of whimsical art for today's fashion mavens. The figures are gold with a Royal/Navy background.
This unisex style is an aloha cut that has a straight bottom(Despite my hands in my pockets). It has double expansion pleats on the back for comfort. You can wear this style tucked in or out. It buttons on the men's side.
Note: Our Sizes Run "Generous"(About ONE whole Size above Shirt's size tag) If you take an "L" in your T-shirts, you might be a "M" in our shirts.
Find Your Correct Size with our ---SIZE CHART
When ordering, this item is called:
TATTOO SHIRT
Price: $89 + tax + shipping