GRAPHICS AND PHOTOGRAPHIC WORK
---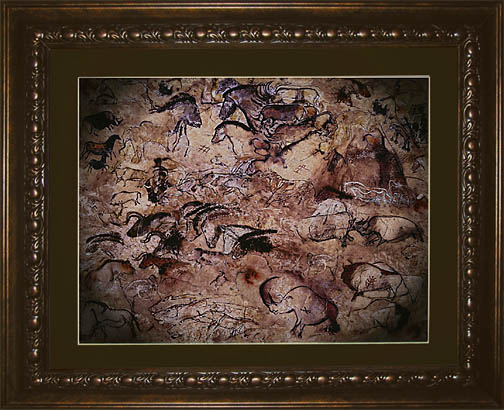 Shown on left is a 16"x20" frame matted to our 13"x17" cave print-Copyrighted 2003
PRICE: $150 (with this actual rustic frame - while available)
PRICE: $75 for a 13"x17" UV proofed poster unframed
E-Mail me about pricing for a larger XLxxxx
Poster only sizes
---
WE ALSO SPECIALIZE IN PHOTO RESTORATIONS AND ENHANCEMENT
PHOTOGRAPHIC FAMILY COLLAGES OR MEMORIALS TO LOVED ONES.
ALL THE JACKET PHOTOS IN THIS WEBSITE WERE TAKEN WITH A DIGITAL CAMERA IN VARIOUS BACKGROUNDS, DIGITALLY CUT OUT AND STUDIO PYCHS ADDED AS A BACKGROUND.
EXAMPLES OF PRODUCT PHOTOGRAPHS TAKEN FOR OTHER ARTISTS AND CRAFTERS
---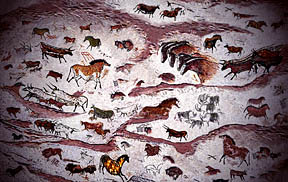 MOST OF OUR PRINTS ARE DESIGNED FROM SCRATCH; THE CAVE ANIMAL PRINTS
THAT YOU SEE WERE INSPIRED BY DRAWINGS THAT ARE UP TO 33,000 YEARS OLD.
APPROXIMATELY 400 HOURS WENT INTO DESIGNING THIS PRINT. THOUSANDS OF YEARS OF SMUDGES WERE REMOVED AND THESE WONDERFUL PICTURES WERE RESTORED TO THEIR ORIGINAL BRILLIANCE:
Signed Poster size(not matted) Copies of this Copyrighted 1995 -print are for sale. E-Mail me about pricing for a particular size.