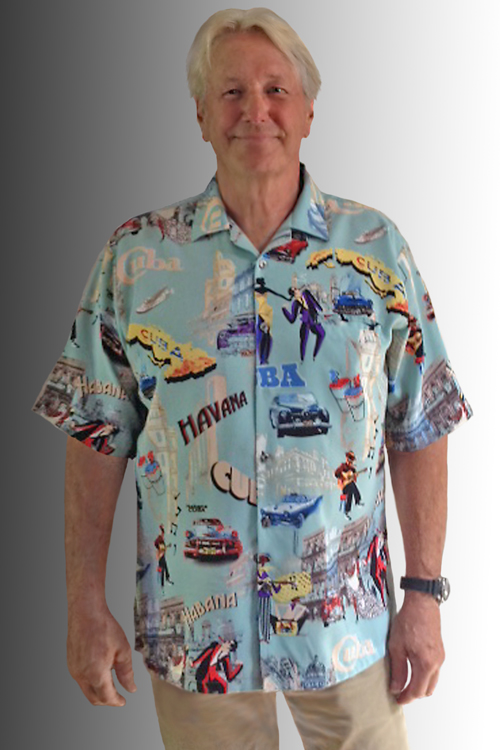 This is our print for 2016. We designed this original CUBA print, which is reminiscent of a by gone era of travel. The cars in my Cuba design are a "time lock" from the 1950's era of tail fins and expansive grills. This very original artwork by us, is printed on a soft wonderful Micro-Fiber with a peach textured feel.
Our artwork "Repeats" are huge at 24" by 29" which makes for not a lot of repetition as you turn from front to back. The whole BACK PANEL is literally one repeat of my artwork.
We have re-designed the pocket with our new Hidden inside "Welt" pocket so it matches completely the print without the print pattern, interference of a "Laid On" outside style pocket. --- -- On the backside we always have the double expansion pleats just below the yoke for roomy comfort.
Note: Our Sizes Run "Generous"(About ONE whole Size above Shirt's size tag. If you take an "L" in your T-shirts, you might be a "M" in our shirts)
Find Your Correct Size with our ---SIZE CHART
When ordering, this item is called:
CUBA SHIRT
Price: $89+ tax + shipping
NOTICE HOW BACK PANEL IS ONE SINGLE REPEAT OF OUR ARTWORK. ALL OF OUR SHIRTS ARE LIKE THIS.