a;ldkjs;lfkjslkfDrag Window out to fullest width to read text on side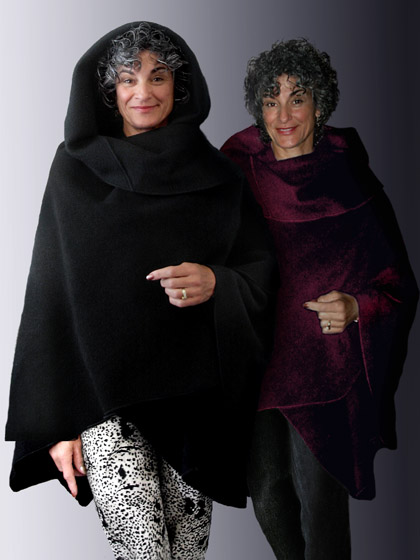 Made from the highest quality Polar Fleece, this is an original style totally designed by LINDA RIPATTI. It can be worn open(Not Shown) or one side thrown up and over the shoulder(Burgundy Cape). The hood can be worn up with this over-shoulder look(Black Cape) or when the garment is left down.
New! Cape also available with Collar instead of Hood
IT WILL FIT SIZES 8 and up.
I can custom make this style now if you are short and need a custom fit. Allow up to 3 weeks for delivery.
Two Color combinations(shown) are available
When ordering, this item is called:
BLACK OR BURGUNDY CAPE
Price: $155+ tax + shipping
Measurement Diagram for Custom Size Order